New User Tutorial – Introduction
Welcome to BehaviorFlow! When you created your account, we created a sample classroom with a sample student for you! You can explore all the great functions that the BehaviorFlow app provides by accessing this student. You should see the screen below when you first log in to your account. Please click on "Sample Classroom". (We'll explain "My Sample Group" later.)
Now, click on "Student A" …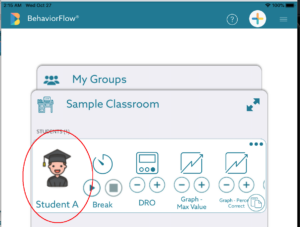 This screen will appear, containing a complete set of the functions available for your student: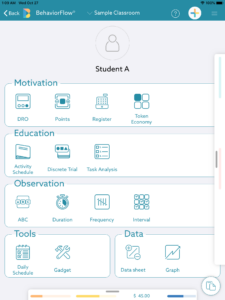 We've included lots of ABA based functions, organized in five different areas: Motivation, Education, Observation, Tools and Data.
We'll go through each area separately, but first here's a summary of the functions included in the app:
Motivation includes Token Economies, DROs, Points Systems and a Register function.
Education contains Task Analysis, Discrete Trials, and Activity Schedules
Observation includes Frequency, Duration, Interval and Antecedent/Behavior/Consequence (ABC) functions.
The Tools section includes Countdown Timers, Variable Interval Timers, and Counters as well as a Daily Schedule Tool.
The Data section holds the data and graphs collected from Education and Observation functions as well as letting you create your own standalone Data Sheets and Graphs
You can click on any of the functions in the app to see what they look like and how you like them. We've created these sample functions to show how they would be used in a typical learning situation. Feel free to browse around and take a look! Later we'll let you know how you can copy these functions and use them with your own students. We'll also tell you how to create our own students and classrooms.
You can continue through this tutorial section for more detail on each of the functions we provide. Click on any topic in the menu to find out more!
Next we'll show you how to create your own classroom!
If you have questions at any time, feel free to send email to [email protected], and we'll be glad to respond promptly.